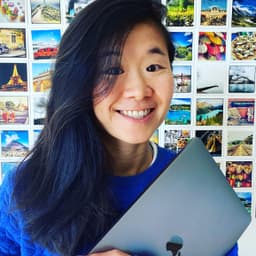 Hej, I'm Julia.
🚀 Executive coaching
Being a startup founder comes with a whole host of challenges, a lot of which I'd never had to deal with before. There was a definitive point in my journey when I realised I needed a bit of external guidance, someone to help me make sense of the actual issues I was facing and how I might think about overcoming them.
It was through working with an executive coach myself, that I truly realised the potential transformative power coaches have. Deciding that I'd quite like to have that power myself, after a 3 month course, I got my executive coaching diploma with the Academy of Executive Coaching (AoEC).
My coaching skills have 1up-ed my life in two main ways: (i) increased self-awareness from all the self-reflection the training takes us through; and (ii) improved communication skills, be it with my direct reports, team members, friends and/or family.
I do also find immense satisfaction from formally coaching others, so I moonlight as an executive / life coach on a pay-what-you-feel-it's-worth basis 🌚. My clients tend to find me via friends' referrals, so if you know of anyone looking for a coach, I'd love to hear from you. Particular clients of interest are mid-level professionals, who identify as female, in industries like tech, startups and finance.
If you're curious about what I do, here are some testimonials from my past clients:
I turned to Julia for guidance when I was trying to figure out what I wanted to do with my professional career and we worked together for six months. During this time Julia helped me work through issues both big and small, extending even beyond my career as we touched on personal and life-related matters as well. Julia's coaching methods are empowering, and allowed me to significantly build up my self-awareness and confidence. My coaching journey with her has helped me visualise the path I want to take in my career and it left me some methods and tools for both my personal and my professional growths.

- Pauline M., Client Success Director
Julia is a joy to work with, she helped me understand and distil some complex problems and regularly asked questions that made me realise things that I would not have discovered on my own. Julia helped me improve my understanding of how to help the teams I work with deliver their best work, and how to approach situations in ways that help align my goals with the goals of my colleagues. The coaching that Julia has given me has helped me achieve rapid career progression, and big improvements in the teams I work in.

- Zak K., Engineer and Tech Lead
Julia was an impressive coach-really engaged. She is smart, she is patient, she has empathy and at the same time an amazing ability to help you reflect and see the issues you are dealing with from another perspective. She helped me to set my goals, find my solutions, fast track my probation and go for a promotion. At the same time she helped me realise what matters most for me, start thinking about my needs and how to find a better work/life balance. The sessions with Julia were a fantastic experience that transformed my way of thinking!

- AP, Research Lecturer